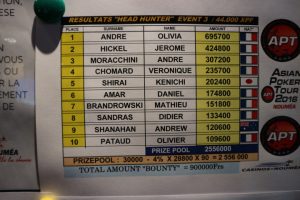 We have had six events so far, two still underway and one to start in around an hour.
There has been 30,301,000XPF already awarded to top place finishes (or still to be awarded with the two events underway)
Thats around $410,000AUD with an event still to go – some great prize pools here at the APT!
Let alone the cash game action!
Update on the High roller event
We have reached the money! Four players remain with the following stacks:-
Benji – 285,000
Maher – 265,000
Muto – 95,000
Tetsuya – 250,000
New Caledonia versus Japan !!!!!!
The Poker P.I.