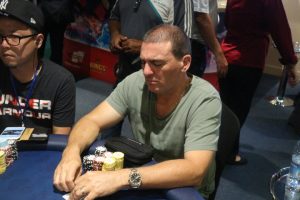 We are deep in the Terminator, there are 16 players left and ten will make the money. You see above a picture of Maddog – he has been sniffing around since the second bullet VERY early in the tourney! I ave also taken a photo because we don't expect to see him near the end – but as the only Aussie – let's hope he can get us on the country board for a win!
I have given you the heads up already – the donkey stage is over – let's play some Poker!
Time to analyse some hands and come back to you!
Yours in Poker reporting – The Poker PI aka The Prince aka Cash King!