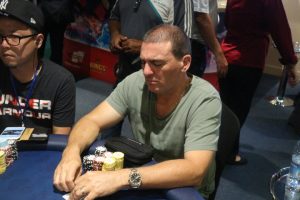 After a long bubble bubble and eliminating the final 2 players to make the final table of 10 we were set! It was decided that we will play down to 8 players last night and return today at 12.30pm to play down to a champion.
Let's discuss a particular hand that unfolded with our resident Maddog, blinds are 3000-6000-500 – a total of 14,000 in the pot before any action, Maddog is sitting in the big blind. A late position raise to 14,000 and then called by the button, small blind folds and action is on the Maddog … a few stats, there is now 42,000 in the pot and Maddog needs to put in 8,000 to see a flop, getting over 5:1 odds to see a flop – he decides NOT to go ahead (I'm not sure how but anyway) – Flop 6 4 10 – check check, turn J – bet 14,000, call 14,000, River 3 … bet 20,000 – fold … both players show – same hand of KQ
Back to Maddog … running 6 4 off suit he would have claimed a pot of over 100,000. Woulda, coulda, shoulda …
Maddog was eliminated in ninth after losing half his stack to pocket 5's – he was looking good on the flop, holding J 10 on a 9 9 10 flop … the 5 on the turn changed everything and Maddog was short stacked.
He found a A 8 a few hands later, shoved, and was called by 99 … Maddog – out!
Another notable hand saw our seat 3 player double early with his 88 versus 77 – the board bricked out and he found a much needed double up.
We will be reporting all the action from the remaining 8 players in the Terminator as well as updates for Day 1a of the Main which starts today also.
The Poker P.I.