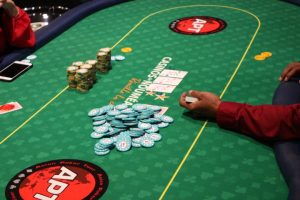 The board read 10h 7d 10s
There was 690,000 in the pot after Olivia's all-in shove for her last 150,000
Jerome tanked and open folded 99
Olivia smiled and tabled 88 before raking in the huge pot and the convincing chip lead!
So the tables have turned – it will be interesting to see whether Jerome can overcome not being chip leader – Olivia has chipped away at his stack and has just taken a very large chunk from it – can he recover?
We will see after the break
The Poker P.I.