Michel eliminated in 5th position
We have had another elimination at the sword of Andrew Shanahan, all the money was in pre and this is what we saw:-
Michel shows – Ah Qd 9h 3s
Maddog shows – Ac Kc 10s Jd
Flop 5s 6d 6s
Turn 2d
River 10s
In the end – Andrew takes it down with a pair of tens and Ace kicker!
We are now down to 4 players – France versus Australia !
Maddog eliminated in 4th position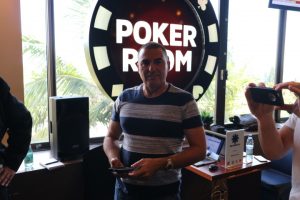 Blinding away in the one seat without hands to fight with he got in in pre against Olivier
Maddog – Kc 10c 10h 4s
Olivier – Qd Qs 5h 7h
Nothing came on the board remotely close to a ten or a King and Maddog bows out in a respectable fourth position.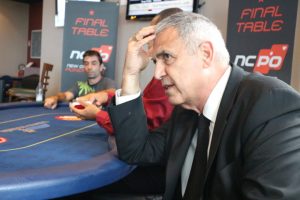 Lisa eliminated in 3rd position and now we are heads-up!
And this is how it went down, Lisa raised the pot to 50,000 and was called by Joseph
Flop Kd 3h Ah
Lisa then checked to Joseph who bet pot and Lisa shoves over the top and is instantly called!
Lisa shows – Kc Ks Jd 2c – for the trap with a set of Kings !!!
Joseph shows – Ac Kh 6h 8h – top top and a flush draw
Turn 6d 
River – Qh
With the flush completing on the river so does the tournament for Lissy – she has gone deep in this same event at the NCPO before and was looking to take this one all the way, fantastic effort – well done Lissy!
The Poker P.I.