As the sun sets here in Noumea on day two so it does for the final table with only five remaining in contention for the trophy and bragging rights of our first event.
This is the horizon we put up with daily looking out past Chateau Royale and over the Pacific!
Andre eliminated in 5th position
It would be an all-in pre flop battle between Andre and Joelle
Andre holding 6x 6x
Joelle holding Kx 8x
Window card was an 8 and Andre couldn't find one of the last two sixes in the deck and was eliminated
eliminated in 4th position
Jerome got it in bad against Casey who called him off with 10d 9d and was actually in front against Jerome's 10s 7s – Jerome was unable to find a 7 or any spades and was eliminated.
eliminated in 3rd position
Mario was by far the people's choice to win this event. He shoved his stack in pre flop and was called by Joelle:-
Mario – 6x 6x
Joelle – Ac Kd
The board was no good for Mario when it ran out:-
As 7d Jc Kh Js
The end of this tournament for Mario but I am sure we will see him deep in other games before the carnival is over.
We are now heads up between Casey and Joelle.
Joelle eliminated in 2nd position and our champion is Casey Kastle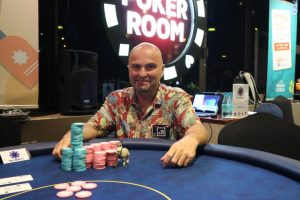 There was a little too and fro with the chip lead after heads up started but the game didn't last very long. First Casey would take a big chip lead after making, what Joelle thought, was a suspicious river bet of 200,000 (around 40% of Joelle's stack) – the board had run out with a rivered flush draw getting there and a four card straight on the board (any queen for broadway) – Joelle tanked for a while, and open folded AK for top two pair … Casey then shows the K3 for just a pair of Kings and it wasn't long after that it was all over …
Joelle shoves from the button and Casey makes an easy call:-
Joelle tables 9h 6h (his favourite hand)
Casey tables Ac 10s
The board ran out and gave Joelle a little hope
Flop – 4d 8d 10h
Casey paired his 10, Joelle now looking for a 7 for the gutshot straight, running hearts or running 9/6!
Turn – 2s
Now only a "seven from heaven" can save Joelle
River – 10c
And thats how the record books will show the win, Casey with a set of tens against "nine high like a boss" – but this time it lost …
Casey wins the first event for NCPO – No Limit Holdem
Both players have bought into event number two – Pot Limit Omaha
The Poker P.I.