There was no slow start to the day today – 52 players took to the felt not even one hour ago and we are already down to 34 players. Some big stacks are starting to emerge and i will have some counts for you directly.
We will play down to a final table today and I estimate, at this rate, it will be prior to 5pm island time!
The prize pool has been announced, the top 24 players will be paid with top prize almost 1,500,000XPF
Dennis was recently taken to broadway by Valerie much to his disgust, he was behind when the money went in pre-flop when he open shoved AQ off-suit and Valerie woke up with AK in the big blind. Dennis would see a Queen in the window, followed by a Jack and his fate would be sealed on the turn when the devastating 10 would fall giving Valerie broadway (Ace high straight).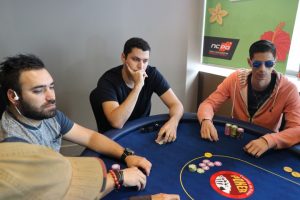 Players are now on a ten minute break while we race off some smaller denominations. There are 30 players remaining, blinds are about to increase to 3000/6000/500 – the average stack is 66,666.