Things are starting to get serious here at the NCPO, with 81 players vying for 8 potential seats in tomorrow's main event. Tonight's mega satellite is the second-last opportunity for players to secure a place in the major shin-dig, and the tension couldn't be more palpable. Furrowed brows, darting eyes and pursed lips feature prominently around the tables as the blinds slowly climb.
Who will come out on top? Stay tuned for more!
UPDATE: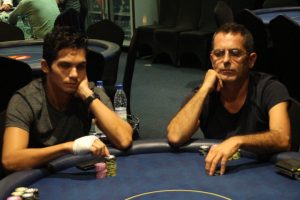 We're only an hour into the satellite and 20 players have packed their bags for an early night, missing out on a seat for tomorrow's main event. We've seen some frisky behaviour early on in the evening, with a number of players hoping to double up and run deep. With the blinds slowly climbing, and the chip spread gradually thinning, we can expect a few more early departures before the break.