Maddog Shanahan eliminated in 4th by Michel
This is Maddog's third final table out of four tournaments, very impressive results so far! Well done Maddog!
Michel eliminated in 3rd by Leigh
We are now heads up – Australia versus France !
A deal was discussed but neither would accept or find middle ground and so there will be no deal !
Just the way it should be!
Shuffle up and deal!
Alex eliminated in 2nd position and Lee Armstrong (not an Astronaut) is our new champion and the first Australian to ever win an NCPO or APT event over the past four years !
The lead would change often, the chips would go in often – there would be 6-8 outers get there to chop pots, there would be lows come runner runner, but in the end, Leigh was strong enough to take it all down and be crowned the champion.
Alex played a solid game and the win was anyones for a while, Leigh happened on it when this went down:
Some action shots from the heads up battle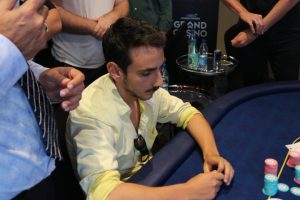 It would all go in pre flop but in the end Leigh won with two pair, Kings and nines, Ace kicker versus Alex's two pair of Jacks and nines.
We are already into the Pot Limit Courcheval event number 6 where we have had 81 entries and there are only 20 players left
The Poker P.I.