The final table is set and we are looking for a new champion in the next 90 minutes or so.
Chip counts
Seat 1 – 125,500 – Fumio from Japan
Seat 2 – 62,500 – Sebastian from New Caledonia
Seat 3 – 167,500 – Maddog from Australia
Seat 4 – 30,000 – Mario from New Caledonia
Seat 5 – 261,500 – Iori from Japan
Seat 6 – 115,000 – Chitan from New Caledonia
Seat 7 – 20,500 – Yvan from New Caledonia
Seat 8 – 65,000 – Veronique from New Caledonia
Seat 9 – 275,500 – Daniel from New Caledonia (chip leader)
Seat 10 -123,500 – Mathieu from New Caledonia
Mario Eliminated in 10th position 
This would happen over two hands for Mario, first hw calls an all-in from Yvan in Seat 7 who is holding QQ, Mario calls with 88 and spikes an 8 on the flop which was outdone by Yvan who also flopped a Q for set over set!
Mario was unable to find quads and doubles Yvan up.
A couple of hands later Mario pushes all-in for his remaining chips (around 9,000) and gets two callers from the small and big blinds. The board is checked to the river
9c 9h 2d 7s 8d
Yvan makes a value river bet but its too late – Veronique has no hand and lays it down. Yvan shows A9 for three of a kind on the flop – Mario laughs and smiles as he always does, win, lose or draw and is eliminated in 10th.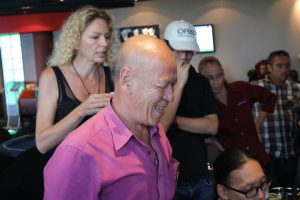 Fumio is eliminated in 9th position holding Ah 6h
Iori from seat 5 calls the 10,000 blind and it folds to Fumio in the cut-off who shoves all-in, Sebastian calls from the Button for exactly the same chip count, blinds and Iori fold.
Fumio Ah 6h
Sebastian Qd Qc
Board 3d 8c 2s Jd 7h
And we have another elimination.
The Poker P.I.