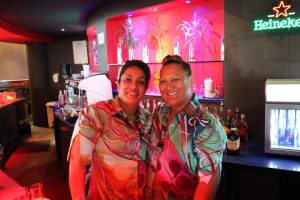 A shout out to the ladies that are keeping us hydrated! I'm positive they even think I'm a Frenchman! There may be no Canadian Club – but there is plenty of Scotch and Vodka.
It's the Terminator event aka Bounty but I prefer Terminator so I can do the voice of Arnold – "I'll be back" – you get the picture!
Right now its in what I like to call the 'donkey stage' of the game – reduce the number of donkey's in the game so you can play some Poker short handed – doesn't always work out that way – sometimes the donkeys rise to the top – not like the cream – just like a really lucky donkey.
We have some royalty in the field
Yuri! – the winner of the Pot Limit Omaha event number 2!
Tivo! – the 'should have been winner because I held half the chips in play' of event 2 Pot Limit Omaha
Maddog! – I've won nothing, I've done nothing and I (have no game in Noumea since 2013 … give up the game you are a fraud!)
Mel – where is your tie!
The Terminator/Bounty is an interesting event – every scalp/knockout earns you 10,000XPF MAKING IT ENTICING TO CALL – however does this mean you should loosen your range? Well I'm glad you asked! Yes, is the short answer, loosen your range in the early stages, play more pots and get yourself into a position to cover your buy-in before the donkey stage ends (do you see how I linked that up) – build a monster or re-buy early – fire more bullets – get it in!
Once the rebuy/re-entry period has ended – pick on the short stacks – watch them shake like a winter leaf while you pound every street – take their bounty chips and just laugh – perhaps say you are sorry … "sorry you didn't have more chips" – the felt is no place for emotions other than your own elation!
Comments from the super coach aka The Poker PI