The time has come and the action has started! Whilst I only arrived last night (just in time to enter day 1b of the opening event XPF33,000 buy-in), the fun had already begun with the welcome party Tuesday evening and the Mega Satellite where we saw 129 players take the felt and 13 Main event seats were awarded. The Grand Casino knows how to welcome its players – with a display of local culture and talent for the enjoyment of all players and supporters of this event.
The opening event started Wednesday lunch time with flight 1a – 74 players took their seats and at the end of 13 levels there would be 29 survivors. The second "day" / 1B / Repercharge was held at 5pm where 97 took to the felt to battle toward a day 2 finish. As I type this report we are currently down to 45 players with the top 18 making the money, prize pool as follows:-
1st 1,258,300, 2nd 736,300, 3rd 509,700, 4th 371,800, 5th 307,800, 6th 253,600, 7th 209,300, 8th 174,800,
9th 150,200, 10th 128,100, 11th-12th 120,700, 13th-15th 103,400, 16th-18th 91,100
The top three chip leaders coming into today were:-
Christophe Laurent 143,500
Le Chi Thanh 116,900
Anger Rudolf 106,800
We are currently in level 16, blinds 1500-3000 with a 500 ante.
Current chip leaders Deschamps David and Phamban Enrick – photo's to follow when I work out the technology and downloads!
Before we move back into the action I have to take this opportunity to say what a professionally run tournament the APT organise, Lloyd and his team have a perfectly tuned tournament structure. I caught up with Mel Judah during the break who is overseeing the running of the tournament, he is a huge supporter of the APT and could not wait to share the experience here in paradise!
Acknowledgments to all the local and International players alike for helping make this a success so far, we have around 20 players from Japan, a number of Australian players including Anthony Hope, Stuart, Joan, Maddog Shanahan and 'wife of Shanahan' as well as the Townsville thunder and lightning, Jordan Van Den Berg!
An exciting card ahead of us as the second event starts this afternoon at 3pm, Pot Limit Omaha XPF55,000 buy-in and an other Mega Satellite tonight at 7pm! There are nine events in total for this carnival and with a fantastic starting field for event 1 we expect some bigger things to come! Bad beats, suck-outs, luck boxes, running bad, running like God – every possible analogy of a Poker player you can imagine and i will be here to report it to you, after my morning ritual of breakfast and a swim at Le Meridien Hotel Resort!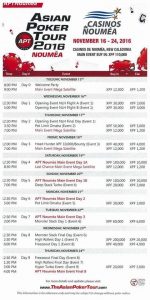 Yours in Poker reporting!
The Poker PI