We started out today at 12.30 and a little over 5 hours later we have the official final 8 for the main event. The final table bubble was burst when Chen and Serge got into a pot together, little bit of raising pre-flop and then it all went in on a flop of:-
6 8 8
Chen bets out and Serge shoves – Chen can't make the call quick enough
Serge – 6 6 for a full house 6's over 8's
Chen – 8 8 – for quads on the flop!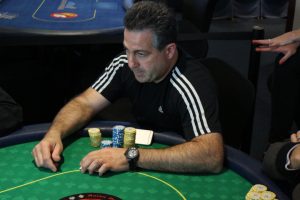 Eat your heart out internet poker we can do it live! There have been internet worthy suck outs, worst hands getting there – suck out, re-suck and then re-re-suck outs in all tournaments.
There have been dubious calls, dubious bets and some head shaking in disbelief – and it's not over yet!
There are some solid players amongst the crowd – there are some crazy players in the crowd as well!
So we are back tomorrow for the main event final table at 2.30pm
I will be your eyes, ears and mouth – TOUS POUR PAPA !!!!
The Poker P.I.