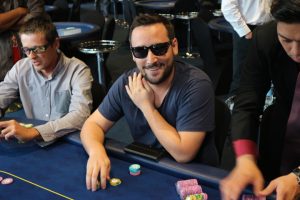 We are down to 18 players in the opening event. As we race toward the final table i see a number of regular faces you expect this deep in the tournament and a few new faces. The French connection dominates the numbers with only 2 'non french' representing the rest of the world!
Starting to see some bad beats now!
Bad beat No.1
Joelle shoves pre flop from the cut-off and is insta called by Danny who turns over Aces. Its never over until its over, Joelle pairs his 5 then picks up a gut shot straight draw on the turn – the river gives him the straight and that will see Joelle double to over 100,000 chips while Danny takes a hit of 53,000
Bad beat No. 2
I turned up to table 4 when the chips were already in the middle – Valerie had called Casey's all-in bet. Valerie with pocket 7's and Casey drawing with an up and down straight – he gets there on the river and has now amassed around 150,000 in chips
13 players left with a few short stacks starting to get 'frisky' putting themselves at risk almost every hand!