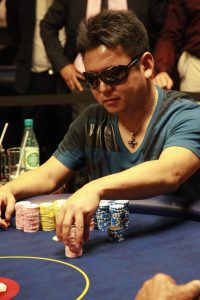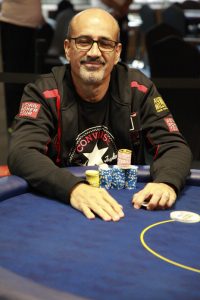 Let the battle begin, Mitsohiro will take a 2:1 chip lead into the heads up battle with 2,445,000 to Daniel Gillies 1,245,000 chip stack. The current blind level calls for 10,000-30,000-60,000 – there is only 60 big blinds between them so i don't expect this will take long – whichever way it falls!
Hand no.1
Mitsuhiro folds – Dan takes blinds and antes
Hand no.2
Mitsuhiro raises to 175,000 – Daniel folds
Mitsuhiro shows Kx 10x
Hand no.3
Daniel folds from small blind
Mitsuhiro shows A X
Hand no.4
Mitsuhiro folds from small blind
Daniel shows A X
Hand no.5
Daniel calls from small blind for 50,000
Mitsuhiro raises to 175,000
Daniel folds
Hand no.6
Mitsuhiro raises to 175,000
Daniel calls
Flop Ad 6c As
check – check
Turn 5s
check-check
River Qh
check-check – showdown
Mitsuhiro shows KxQx for a pair of queens
Daniel shows 6x8x for a pair of sixes
I don't like the soft action here by Daniel, some pressure on the flop or turn could have seen him take down this pot.
Hand no.7
There is a call from the small blind and checked option
Flop 5h Jc 7h
Daniel bets 125,000
Mitsuhiro re-raises to 325,000
Daniel folds
Mitsuhiro tables Jx5x for top and bottom pair
Hand no.8
Mitsuhiro calls from the small blind
Daniel checks his option
Flop 2d 4h 6c
check-check
Turn 9h
check-check
River 3c
check-check-showdown
Daniel shows 7h 4c for a pair of fours
Mitsuhiro shows 8x 7x – still drawing
Hand no.9
Daniel raises to 225,000 – effectively committing to this hand
Mitsuhiro re-raises all-in
Daniel make the call
Mitsuhiro 8h 8c
Daniel As 7h
Flop 4d 5d 8d
Yahtzee!!! for Mitsuhiro who has flopped a set of eights! Daniel holds a seven so has straight potential with any 6
Turn 3c
Daniel picks up more outs with a double belly buster straight draws – any 2 for the wheel and any 6 for the bigger straight
River 4s
The four repeats and that is it – Mitsuhiro is the new NCPO main event champion until we meet again next year.
What an absolute legendary run this man has had through the main event, he played and led day 1b as the overall chip leader across both flights into day 2. At the conclusion of day 2 he was still on top of the chip lead going into the final table today and whilst the chip lead may have swung once during the day – it took about one hand to take the commanding lead again!
Well done Mitsuhiro Shiga, you are a gentleman and warrior on the poker table!
The Poker P.I.