Mario eliminated in 6th position by Daniel Gillies
Mario was all-in pre flop with three callers to beat – when the flush came on the turn Daniel announced all-in as well – the other two players got out of the way and the hands were revealed.
As suspected Daniel hit the flush on the turn, Mario had the straight for the second best high and the nut low draw but it didn't come …
Super Mario eliminated.
Daniel eliminated in 5th position by Maddog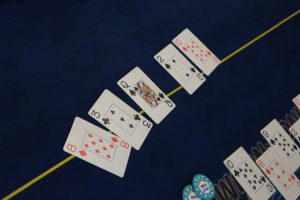 All the money went in on the river and it was full over full … Daniel held a full house of tens over deuces but the Maddog held tens over nines!
It is getting close to 'go time' for day 1a of the main event – the Poker room is starting to fill with familiar faces as well as recently arrived International players and locals who won satellite seats during the lead up to this fantastic annual event.
The Poker P.I.