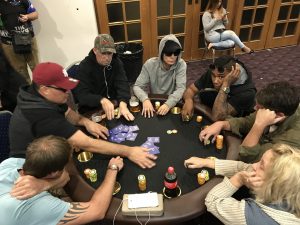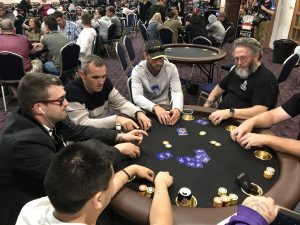 A few shots from around the tables, we had 49 teams start this event and the structure is a little weird to what I have seen before and the brains trust behind it is none other than local (well New Zealand local) TD Jay Holt … the mastermind came up with this 3 months ago, he had an epiphany, a light bulb moment and decided to seat all players in the event at once – one team member to the left of the tournament area and the other to the right. Both members will play to the break and only then will the chip stacks be combined into one!
From this point the team members swap over from blind to blind. I have just been informed that the mastermind hasn't stopped there – on the final table they will be blind for blind and still swapping BUT with a twist! … They have the option to consult (only once) on a big decision!
Jay Holt – you are a man ahead of your time!
The Poker P.I.