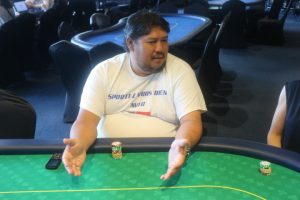 Some action shots from event 2 – things have only just started and everyone is settling in slowly to the grind!
The above picture is that of the renowned Poker player – Andrew "Maddog" Shanahan, Mel was approached by someone yesterday who asked "Why is he called Maddog?"
Mel's reply:-
"Well, I'm happy to tell you how he got the name, but you shouldn't mention it to him. He gets mad when he can't beat players on the table, furious, rabid … and from that moment he sniffs out his 'victims' like a dog. Hence 'Maddog' Shanahan"
I have to agree – I've played many pots with this Maddog!
We will be following the Omaha action as it unfolds.